(Follow us on Kickstarter!)
So what is an AI Camera?
Our scientists are busy trying to answer this important question! Like a regular camera, an AI camera captures images, but unlike a regular camera, it's able to process and interpret the images and make useful decisions. For example:
bird on bird feeder → identify bird species and post a high-quality picture to the cloud

squirrel on bird feeder stealing bird seed → employ squirrel-discouraging technology to remove squirrel and restore order

cat standing near back door → text owner that cat wants to be let outside

giraffe in backyard → text owner with a picture of the giraffe?
Vizy comes with deep-learning neural networks that makes detection of objects, people, and/or animals straightforward. Vizy does all processing onboard and doesn't rely on servers for AI processing, which means you don't need a network connection or pay a monthly server fee.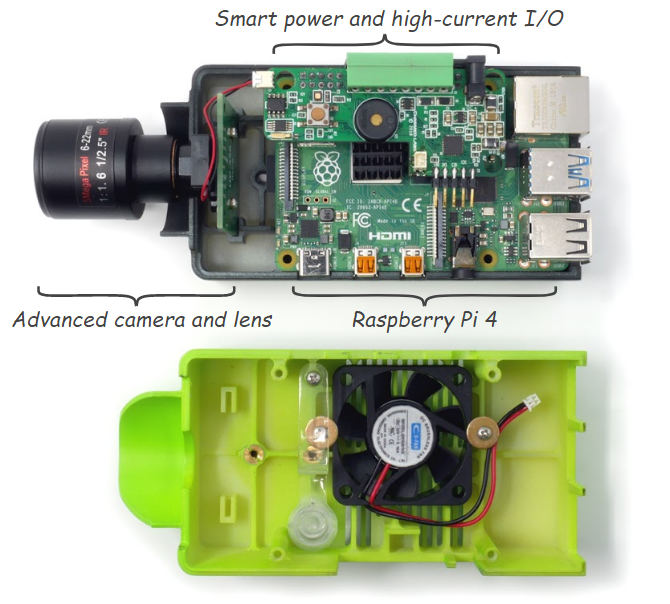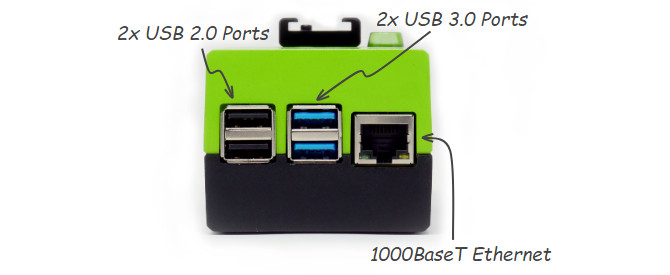 A powerful vision platform
You can think of Vizy as a powerful platform for AI and vision applications and a great way to become familiar with and learn AI. Here is a quick rundown of Vizy's features:
Raspberry Pi 4 CPU, including quad-core ARM processor, up to 4 gigabytes of RAM, WiFi, gigabit Ethernet, and 4 USB ports

Camera with high-quality optics that can capture over 500 frames/second and supports both day and night viewing

Easy to use digital and analog I/O with high-current output for controlling motors, solenoids, relays, lighting (and even sprinkler valves!)

Web-browser UI can be accessed from your computer or phone, locally or remotely.

Easy to use Python application software — run applications others have written, or customize/write your own

Optional accessories: zoom lens, outdoor enclosure, lighting, 4G LTE cellular modem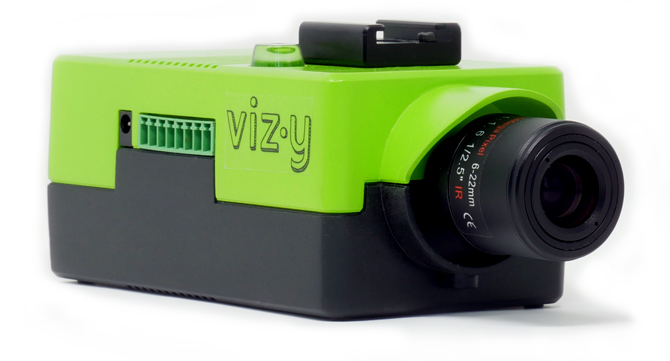 Ready-to-run applications
All the applications shown in the video are installed and ready to run on your Vizy.
Birdfeeder
The Birdfeeder application watches your bird feeder and can identify 20 common bird species: eastern bluebird, northern cardinal, blue jay, cedar waxwing, American robin, mourning dove, common grackle, red-bellied woodpecker, common pigeon, northern mockingbird, white-breasted nuthatch, red-winged blackbird, downy woodpecker, tufted titmouse, black-capped chickadee, song sparrow, American crow, Baltimore oriole, and American goldfinch. It captures pictures of the birds and uploads them to the cloud (Google Photos) for you to view and see what birds have been visiting your bird feeder.
It can also identify the "party crashers" — such as squirrels, opossums, and raccoons (or even unwelcome bird species.) And if you give Vizy the ability, it will "take care of things". That is, Vizy can control a sprinkler valve with its high-current I/O and send the unwelcome visitors "a message" in the form of a harmless squirt of water. (We're not monsters!)
And as a bonus, Vizy will record these interactions as short videos and upload those to the cloud as well — as shown in the video above. Finally, some justice and accountability for your bird feeder! Think of Vizy as a tool to encourage squirrels to stick to acorns and the like, so that your avian friends can enjoy the food you've so generously provided for them.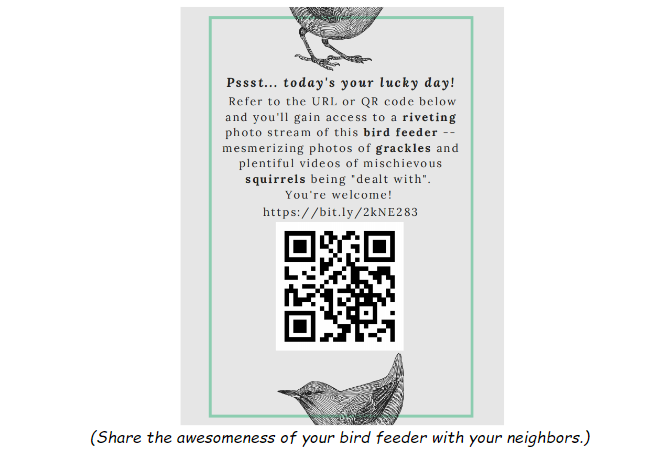 Here's an
example
of a Birdfeeder photo stream — live updated by a dedicated, never-tiring Vizy camera!
Switching gears from backyards and bird feeders, we wrote Motionscope after talking to our physics teacher friends and asking them what tools they would like to have available to teach and/or study the concepts of projectile motion — concepts such as velocity, acceleration, momentum, and energy. Motionscope uses Vizy's camera to capture the motion of moving objects. It can accurately measure the position, velocity and acceleration of each object in each frame.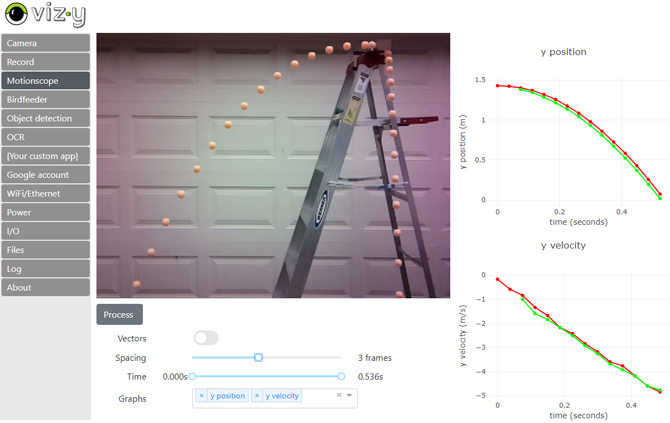 Motionscope can also display graphs of each object's x and y position, velocity, and acceleration, as well as the magnitude and angle of each object's velocity and acceleration. Or if you prefer, Motionscope can provide the raw motion data in spreadsheet form. Sliders allow you to adjust the spacing of the data points and the size of the time window.
Motionscope is a fully-functional application that demonstrates the diverse possibilities of Vizy's potential uses!
Like the Birdfeeder application, this application uses a Tensorflow neural network to detect your dog or cat and take pictures and/or little videos and upload them the cloud for you and family/friends to enjoy. You can also connect to Vizy remotely to check on your pet and give them treats, for example.
Pet Companion is an example application that you can easily customize to your pet's needs. (Did you know that you can make a treat dispenser out of cardboard, a jar, and a solenoid? So, you learn important maker skills, your pet gets treats — everyone wins!) The code behind Pet Companion is described in detail in a tutorial series that covers how to write your own Vizy programs.
Object detection, optical character recognition, slow-motion capture and timelapse are provided as demonstration applications that you can use as-is or as building blocks for your own applications.
Vizy's applications are all written in Python and use Tensorflow, OpenCV, PyTorch, and other libraries which are installed and ready for use. We will also offer a way to easily download and install new versions of applications as well as brand new applications written by us and Vizy's users.
Detailed Features
500+ frames per second
Vizy uses the same Sony image sensor (IMX219) as the Raspberry Pi Camera Module V2.1, so it works with existing Camera Module drivers and software. We added additional video modes and software drivers that allow you to get over 500 frames per second. See the list below.
640×480 at 208 frames/sec

640×320 at 304 frames/sec

640×240 at 396 frames/sec

640×160 at 560 frames/sec

640×80 at 1000 frames/sec

Browser-based interface
Interact with Vizy by using a standard web-browser running on your computer or phone. You don't need to install special software to interact with Vizy, and Vizy works with all major operating systems. Additionally, it's possible to interact with Vizy remotely over the Internet.
Write your own applications
You don't need to be able to program to use Vizy, but if you want to learn AI and vision programming, we designed Vizy's software with you in mind. Vizy's software libraries, from deep-learning object detection code to the code that uploads images and videos to the cloud is easy to use and easy to integrate.
We have been helping makers, developers, roboticists, hobbyists and educators bring their creations to life for years with the
Pixy
line of smart cameras. We look forward to seeing what you'll do with the advanced capabilities of Vizy. We'll be here to help and to cheer you on!
Develop in Python
Python is easy to learn and easy to use, while also being productive and powerful. It has seen its popularity grow rapidly in recent years and is the most popular language for AI and machine learning. These are some of the reasons we chose Python for Vizy.
But writing a browser-based application in Python can be challenging because you also need to write code in HTML and Javascript. (Arrgh!) Vizy uses a framework called
Dash
, which makes web-based GUI controls, data visualization, and video streaming simple, and there's no need to write any code in HTML or Javascript.
Text me, email me, or upload to the cloud
Vizy patiently sits and gathers images and then interprets what it sees by using its advanced AI. So it makes sense that Vizy wants to share the information that it has painstakingly gathered, either by uploading pictures and videos to the cloud (e.g. through Google Photos) by texting you, or by sending you an email.
Vizy's software libraries make using these methods of communication easy and straightforward.
Raspberry Pi 4 inside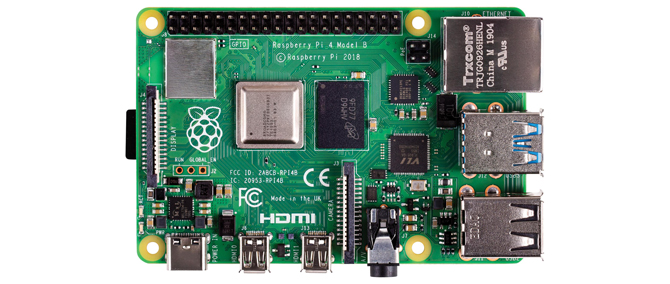 Vizy uses the Raspberry Pi 4 as its main CPU. Introduced recently, it offers twice the performance over its predecessor for most tasks including running
deep learning algorithms
. It has a quad-core processor, up to 4 gigabytes RAM, WiFi, gigabit Ethernet, and 4 USB ports.

The Raspberry Pi 4 onboard thermal management often needs to reduce the CPU frequency to prevent overheating, which also reduces the available computing power. Vizy's integrated cooling fan and heatsink maximizes the available computing power by directly cooling the CPU.
Software is pre-installed and ready-to-run
All of the demos shown in this video are ready-to-run right out of the box. All software is installed on a 32 gigabyte Ultra MicroSDXC SD card, included with your Vizy.
Safe shut-down and advanced power modes
Vizy supports safe shutdown, so its Linux filesystem won't be compromised. You can also put Vizy into hibernation mode and set an alarm for it to wake up at a specified time. Vizy's power electronics have a dedicated 8-bit processor that handles advanced power modes like hibernation and alarm wake-up.
Real-time clock with battery backup
We added a real-time clock with battery backup so your Vizy will always know the time/date and doesn't need to rely on power or a network connection for accurately keeping time.
Easy to use digital and analog I/O with high-current output
Vizy has a terminal block connector that supports digital I/O, analog I/O, PWM, UART serial and high-current output (up to 1000 mA per channel). You can drive relays, solenoids, motors, lighting and even sprinkler valves directly. And the terminal block connector makes it easy to hook things up to Vizy. All you need is a screwdriver — no soldering or crimping necessary!
High-quality replaceable optics
Vizy's camera has an M12 lens mount for improved optics. Vizy comes with a high-resolution, wide-angle, zero-distortion, F2.0 lens. A high-resolution zoom lens (6-22mm, F1.6) is also available as an accessory. Or you can provide your own lens that better meets the needs of your application.
Switchable IR filter for day and night operation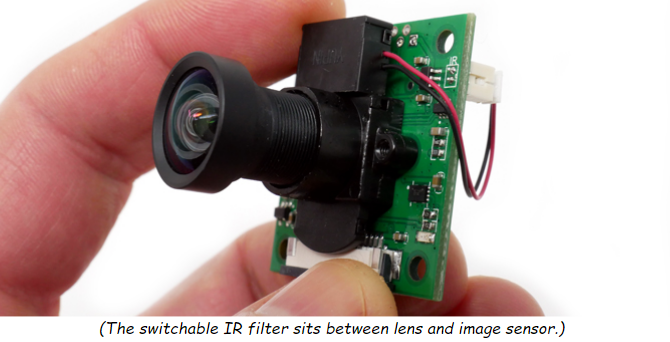 Vizy's camera has an electronically switchable IR-cut filter for use in daytime and nighttime. During the daytime the IR-cut filter provides the maximum color fidelity. During nighttime the IR-cut filter can be switched out so you can use IR lighting to illuminate what Vizy sees.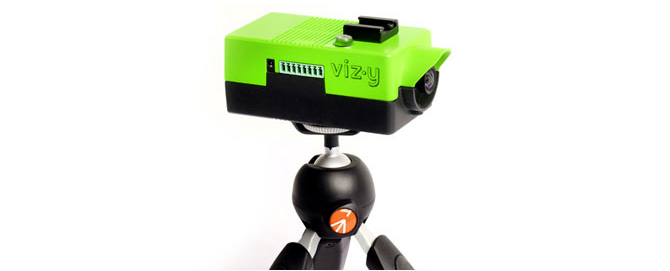 Vizy has a universal tripod mount (1/4″-20) to make mounting simple.
An optional lighting accessory is available to help illuminate what Vizy sees. It has adjustable brightness and color temperature, and you can turn it on and off remotely as needed.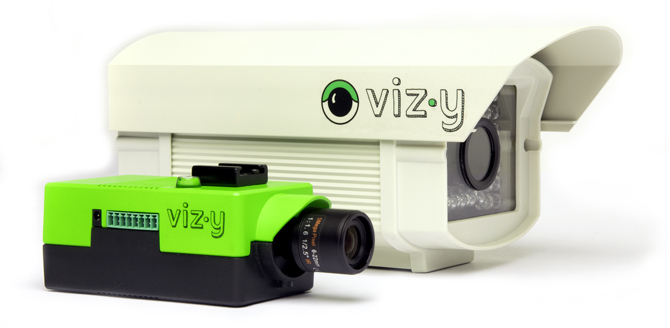 Some applications require that Vizy be installed outdoors. The optional outdoor enclosure does an excellent job of keeping Vizy safe from the elements, and it has integrated IR lighting for nighttime use.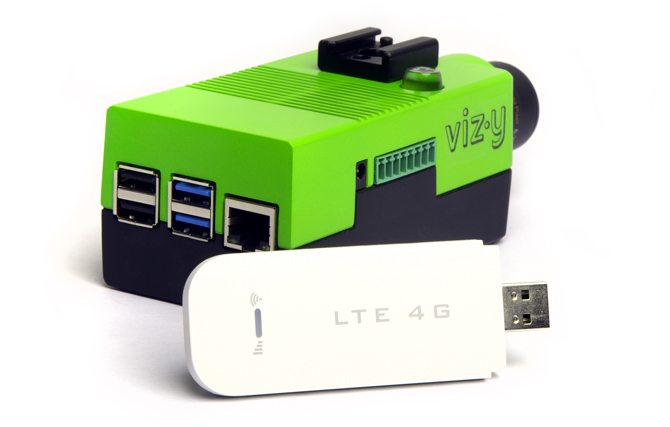 The optional cellular modem gives Vizy network connectivity when/where WiFi or Ethernet isn't available. It supports 4G LTE as well as 3G CDMA or GSM (US bands) and plugs into one of Vizy's four USB ports either directly or via the supplied extension cable.
Vizy has built-in WiFi, and gigabit Ethernet, which means that you can easily access Vizy from within your local network, but we've also made it possible to access your Vizy remotely over the Internet.
If you've tried getting your device on the Internet you'll know that it's typically not easy. Vizy's software creates connections with a server and provides you with a public URL that you can use and share with friends/colleagues. Simple! You can then access your Vizy from practically anywhere using a computer or phone.
The optional 4G cellular modem allows you to access Vizy when/where there is no WiFi or Ethernet connection. (The cellular modem only supports US frequency bands and is for US use only.)
If you've tried getting your device on a cellular network, you'll know that it too is not simple. Getting a device that supports the correct frequency bands is one hurdle. Getting a decent cellular plan is another hurdle. Cellular plans often cost $50/month for 1 GB of data whether you use the data or not, and some IOT data plans charge $0.40 per
megabyt
e (that's $400 per gigabyte!)
Included with the cellular modem, we'll provide a SIM for a pay-as-you-go cellular provider that costs $10/Gigabyte. (You set up the account separately, not through us.) Or if you prefer, use a different SIM and a plan of your choosing.
The final hurdle is accessing your cellular-network-connected device over the Internet. When connected to a cellular network, your device is behind an industrial-strength firewall. Our straightforward solution automatically creates server connections allowing Vizy to easily traverse the firewall. A public URL is provided that you can then share with friends/colleagues to connect to your Vizy from practically anywhere using a computer or phone.
Finding a cellular solution that checks all of the boxes such as 3G/4G bandwidth/connectivity, firewall traversal, and reasonable cost for hardware and cellular data was challenging, so we're excited to offer this solution as part of the Vizy ecosystem!
20% of proceeds donated to educational programs
Vizy has benefited hugely from a dedicated community of makers and developers. If our campaign meets its financial goal and Vizy begins retail sales, we will donate 20% of proceeds from Vizy and its accessories to educational programs — programs like
UTeach Maker
. (Note, due to
Kickstarter rules
, we won't be able to donate any of the proceeds from this Kickstarter campaign. But the rule doesn't apply after the Kickstarter campaign is finished, and we begin retail sales of Vizy.)